JACKSONVILLE, Fla. — The newest track released Friday shows Hurricane Irma shifting westward with its "cone of concern" covering most of Florida, including the First Coast.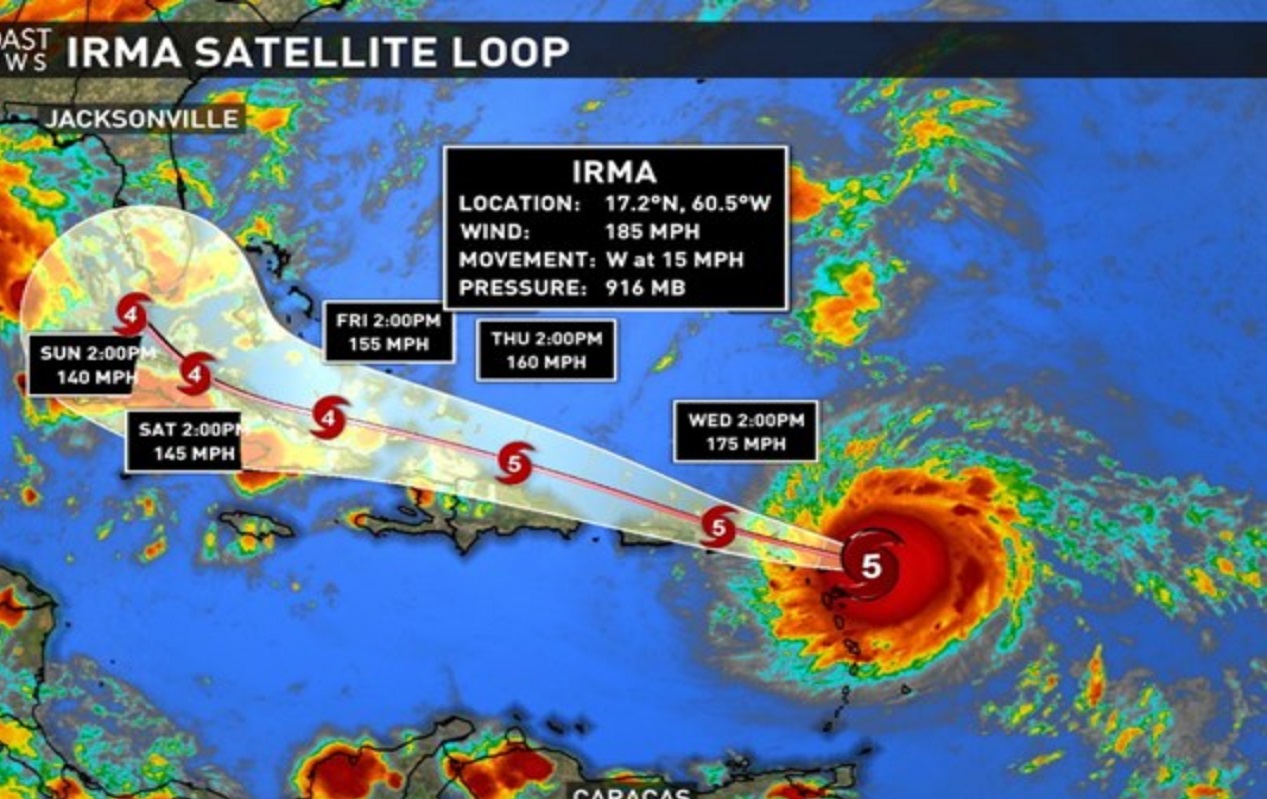 As of 8 a.m. Friday, Hurricane and Storm Surge warnings have been issued for South Florida and the Florida Keys as Irma continues to move west as a Category 4 storm with 155 mph winds.
The current track has the storm moving over South Florida as a powerful Category 4 storm, weakening to a Category 1 and then tropical storm by the time it is over Jacksonville and Southeast Georgia. We can expect winds of 75 miles an hour plus over areas from U.S. 301 and east. Storm surge up to five feet is possible in Florida and up to seven feet in SE Georgia.
The average error is 225 miles at that point. But for now here is what we expect with the NHC forecast. NE FL. east of highway 301: winds 75+ surge of 2-5 ft. and rainfall of 6-12″. Coastal SE Ga. winds 75 surge 4-7 ft. and rainfall of 6-15″. All west of highway 301. winds 65+ rainfall 4-7″.The new forecast does increase the tornado threat. Weather will worsen from the south Sunday and improve from the southwest Monday.
Evacuations have been ordered in parts of the area and more will likely be ordered on Friday.
EVACUATIONS AND SHELTERS LIVE BLOG
The NHC also issued a Hurricane Warning for the Florida peninsula from Jupiter Inlet southward and around the peninsula to Bonita Beach, including the Florida Keys, Lake Okeechobee, and Florida Bay.
By Friday we will be much more specific and break it down county by county.
On Friday we will still have plenty of time to prepare for and get out of harm's way if need be. This is why any mandatory evacuation orders will hold off until then.
On Wednesday, the Barbuda government has confirmed that Hurricane Irma has killed one person and that there has been massive destruction on the island. ABC News reported a total of three deaths in the Caribbean.
Hurricane is here at 10:44 AM Friday
Governor Rick Scott declared a state of emergency for all 67 Florida counties ahead of Irma.
"Hurricane Irma is a major and life-threatening storm and Florida must be prepared," Scott said.
http://www.intellicast.com/Local/WxMap.aspx
JACKSONVILLE, Fla. – Hurricane Irma continues moving just off the coast of Cuba on Saturday afternoon and is expected grow back into a Category 4 storm before the center of the storm crosses the Florida Keys on Sunday.
The National Hurricane Center has extended hurricane warnings from the Florida-Georgia border, south around the peninsula to the Big Bend. At 2 p.m., Hurricane Irma continues to move west at 9 mph, although forecasters continue to predict a turn to the north at some point Saturday afternoon.
More Hurricane Irma Headlines
Hurricane warning extendes north, includes Jacksonville
Hurricane Irma hits Cuba as a Category 4 storm
Cuba blasted as Hurricane Irma tears through the Caribbean
Irma evacuees flee with what's most precious: Their lives
Quarter-million Jacksonville residents ordered to evacuate
Jacksonville beaches under mandatory evacuation as Hurricane Irma nears
St. Johns County prepeares for Hurricane Irma
Hurricane Irma offers first real test of Florida's post-Andrew emergency plan
NHC encourages all interests to prepare for hurricane conditions for the next 48 hours. Main threats will be tropical storm and hurricane force winds. Isolated tornadoes could occur before and after the center of the storm passes. Along the beaches, further erosion with rough surf, rip currents and coastal flooding is likely.
In Northeast Florida and Southeast Georgia, expect the worst of Irma's weather to begin Sunday and continue through Monday night.
Gov. Rick Scott is issuing urgent warnings, asking about 6.3 million — one-third of the state's residents — to evacuate ahead of a massive hurricane on track to be the state's most catastrophic ever.
The National Guard currently has 250 members in Jacksonville and 250 more are expected.
You can support my channel by clicking on an ad ?