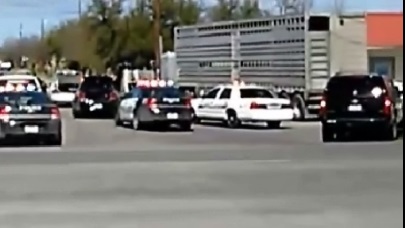 TEXAS – Del Rio and Val VerdePolice were investigating an officer-involved deadly shooting in Del Rio Tuesday.
SCROLL DOWN FOR VIDEO
The suspect, reportedly caused a disturbance in a nearby location, threatening individuals with a machete, before attempting to run over several officers with his 18-wheeler.
Other details of the story, including the reported machete incident, are still under investigation, according to Sheriff Martinez and Chief Bullard.
No officers were injured in the incident, said Sheriff Martinez and Chief Bullard. The suspect was killed.
Del Rio is a city in and the county seat of Val Verde County, Texas.
As of 2012, the city had a population of 35,543.