<a  />

Published on May 24, 2012 by SexyTeddyBear1987
My Sister and, I filmed this Wednesday May 23rd 2012 at 11:38 P.M. So, are they "REAL" Army Missles or, a U.S. Space Craft? What's your Ideas' on what they are or, do you know?
In Tampa on Wednesday, spectators watched as black helicopters and Special Operations Forces conducted a military drill in preparation for the RNC in August.
"Special Operations members from the Army, Navy, Marines and Air Force will work alongside SOF troops from other countries to 'assault' mock enemy positions and rescuing 'hostages' next to the convention center, both on land and in the bay," ABC News in Tampa reported.
"The dramatic scenes took place at the Tampa Convention Center yesterday, when 14 SOF members from the Army, Navy, Marines and Air Force showcased their combat skills in a half-hour demonstration," reports the Daily Mail today. "Representing 10 different nations, they roared through the water in two inflatable boats and leaped ashore using Humvees and all-terrain vehicles."
The mock battle was part of Building the Global SOF Partnership conference attended by delegates from 96 countries around the world, including Canada, Australia, Brazil, Columbia, Thailand, Norway, Poland and Jordan.
The conference is billed by the National Defense Industrial Association as the "defense industry's premier event focused on advancing defense industry technology solutions and building the global SOF partnership, attracting over 7,000 government and industry Attendees, featuring 350 exhibiting companies."
The South Tampa-Hyde Park Patch reports:
A highlight of the conference has been the SOF demonstration, featuring operators from a dozen countries "assaulting" mock enemy positions and rescuing "hostages" by land, water and air next to the convention center in downtown Tampa.

Secretary of State Hillary Rodham Clinton was the keynote speaker at the International Special Operations Forces Week conference dinner last night, according to ABC Action News.

@@@@@@@@@@@@@@@

The international troops spent time "engaging the enemy" and firing weapons. The exercise included a mock rescue of Tampa mayor Bob Buckhorn.
The kidnap rescue of an American politician by a heavily armed international force is a significant and dangerous precedent that once again demonstrates that Posse Comitatus is a dead letter.
Asked about the staged rescue and the drill with international soldiers, an unnamed Marine told the Tampa Bay Times "doing this for the public is a very powerful thing because it tells our common enemies if they mess with one of us, they mess with all of us."
It also acclimates the public to the presence of the military in a country that was founded in part on an aversion to standing armies.
The Global SOF Partnership exercise raises the prospect of a possible false flag during the RNC in August.
The over-the-top imposition of a militarized police state in Chicago during the NATO war council last week and preparations for the same in London during the upcoming Olympics sends a clear message – the global elite will now roll out heavily armed international troops at all globalist political events, including presidential conventions where candidates hand-picked by the global elite are paraded in dog and pony show fashion.
Bureau of Alcohol, Tobacco, Firearms and Explosives (ATF) agents have been visiting gun shops in Alaska and asking for records of firearms sales, stoking fears that the federal agency is building a list of gun owners in the state.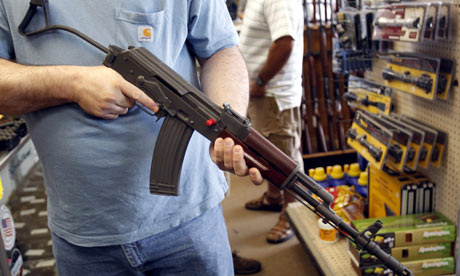 According to the Alaska Dispatch, earlier this year two gun shops in Alaska "reported that ATF agents had asked for their books, and both turned down the requests. The one shop that went on the record, Great Northern Guns in Anchorage, said the ATF agent asked politely for the books, and when store manager Frank Caiazza refused, the agent just as politely accepted the refusal."
It is illegal for the ATF to remove any material from a gun shop unless it is part of a criminal investigation. The requests for records have lead some to question whether the "ATF will create some sort of list or database of gun owners," states the report.
Alaska Rep. Don Young requested a meeting with ATF officials after receiving reports that ATF agents were visiting gun shops and asking to see record books.
During the meeting with Young, which took place last week, ATF Deputy Director Tom Brandon attempted to assure him that the, "ATF has never maintained a database of lawful firearms owners; is not permitted by law to create and maintain such a database; and has no intention whatsoever of collecting any information for such a database."
However, as we reported last year, this represents merely the latest example of the ATF using intimidation tactics in an effort to obtain information about gun owners.
Last summer, the ATF sent letters to gun shops in border states ordering gun dealers to comply with a new "directive" and report to the feds sales of "two or more pistols or revolvers, or any combination of pistols or revolvers totaling two or more."
While attempting to recruit gun store owners as informants to spy on their customers, we talked to several gun dealers in Austin and one of our own staff members who reported that the ATF was conducting intimidating home visits during which they demanded to be allowed inside without a warrant, while implying that gun owners could be terrorists for purchasing two or more firearms at a time.
This is all of course very ironic given the fact that it is the ATF itself which was caught delivering firearms to drug cartels in Mexico as part of the Fast and Furious scandal.
Americans who purchase guns are already forced to undergo checks against the FBI's National Instant Criminal Background Check System to prove they are not a felon. The ATF has no business either demanding to see records of gun owners or carrying out threatening home visits – such conduct is completely illegal.
After being caught sending weapons to Mexican criminals that were used to kill U.S. Border Patrol agents, police and citizens, the ATF is now treating American citizens like criminals simply for exercising their second amendment rights, all under the guise of a regulation (purchasing two or more firearms) that was rejected by Congress and never became law.
The ATF's efforts to intimidate both gun sellers and purchasers really picked up steam last year after President Obama told gun control advocate Sarah Brady that his administration was working "under the radar" to sneak attack the second amendment.
During a March 30, 2011 meeting between Jim and Sarah Brady and White House Press Secretary Jay Carney, at which Obama "dropped in," the president reportedly told Brady, "I just want you to know that we are working on it (gun control)….We have to go through a few processes, but under the radar."
The quote appeared in a Washington Post story about Obama's gun control czar Steve Croley.