Birthers beware: Hawaii may start ignoring your repeated requests for proof that President Barack Obama was born here.
As the state continues to receive e-mails seeking Obama's birth certificate, the state House Judiciary Committee heard a bill Tuesday permitting government officials to ignore people who won't give up.
"Sometimes we may be dealing with a cohort of people who believe lack of evidence is evidence of a conspiracy," said Lorrin Kim, chief of the Hawaii Department of Health's Office of Planning, Policy and Program Development.
So-called "birthers" claim Obama is ineligible to be president because, they argue, he was actually born outside the United States, and therefore doesn't meet a constitutional requirement for being president.
Occidental College transcripts provides concrete evidence to annul Obama presidency.
Posted by PC Corruption, Latest news, World newsSaturday, June 18th, 2011
Registration transcript states ~ Name: Barry Soetoro – Religion: Islam – Nationality: Indonesian
The smoking gun evidence that annuls Obama's presidency is Obama's college transcripts regarding his application for and receiving of foreign student aid. Obama's college transcripts from Occidental College indicates that Obama, under the name Barry Soetoro, received financial aid as a foreign student from Indonesia as an undergraduate at the school. The transcript from Occidental College shows that Obama (Barry Soetoro) applied for financial aid and was awarded a fellowship (scholarship) for foreign students from the Fulbright Foundation Scholarship program – an international educational exchange program sponsored by the U.S. government. Grants are available for U.S. citizens to go abroad and for non-U.S. citizens with no U.S. permanent residence to come to the U.S. To qualify, for the non-US citizen scholarship to study in the U.S., a student applicant must claim and provide proof of foreign citizenship. This document would seem to provide the smoking gun that many of Obama's detractors have been seeking.  The United States Constitution requires that Presidents (and Vice Presidents) of the United States be natural born citizens of the United States.
"No Person except a natural born Citizen, or a Citizen of the United States, at the time of the Adoption of this Constitution, shall be eligible to the Office of President; neither shall any Person be eligible to that Office who shall not have attained to the Age of thirty five Years, and been fourteen Years a Resident within the United States."
Obama hasn't met and doesn't meet the basic qualifications for the presidency – must be natural born citizen.
Obama has been named in dozens of civil lawsuits alleging he is not eligible to be president, with many filing a criminal complaint alleging the commander-in-chief is a fraud.
The filed indictments disputes Obama's eligibility to be president under the U.S. Constitution which requires that eligible candidates for the United States presidency be "natural born" citizens.
U.S. soldiers including a general refuse to recognize Obama as their Commander in Chief since he is not a U.S. citizen. The soldiers have challenged Obama's legitimacy by filing federal lawsuits against Obama.
On such soldier was U.S. Army Maj. Stefan Frederick Cook who was given orders to deploy to Afghanistan. Cook refused to deploy stating that he shouldn't have to go because Obama is not a U.S. citizen and therefore not legally President and Commander in Chief.  The military revoked the orders with no reason given.  Speculation is that Obama would rather not see this thing go to court before a judge!
"In the 20-page document — filed with the U.S. District Court for the Middle District of Georgia — the California-based Taitz asks the court to consider granting his client's request based upon Cook's belief that Obama is not a natural-born citizen of the United States and is therefore ineligible to serve as commander-in-chief of the U.S. Armed Forces," the Ledger-Enquirer reported.
Cook "would be acting in violation of international law by engaging in military actions outside the United States under this President's command. … simultaneously subjecting himself to possible prosecution as a war criminal by the faithful execution of these duties," Taitz stated.
Obama says he was born in Hawaii in 1961, just two years after it became a state.
There are many lawsuits and claims that Barack Obama was never eligible to be president because he wasn't born in the United States. And there is credible evidence that suggests he is not legally eligible to serve as President of the United States.
Numerous official government documents records Obama being legally registered as Barry Soetoro. School registries shows the registration of Barack Obama under the name Barry Soetoro. During his Occidental College days he is registered as Barry Soetoro. An entry in the journal of the California assembly in reference to grants given to foreign exchange students (this official government document lists Obama as a foreigner not a US citizen. A US citizen wouldn't qualify for foreign exchange student funding) states Obama as Barry Soetoro from Indonesia.
The first name of a child is always the same from birth. If throughout his childhood Obama went by the first name of Barry then legally his birth name would have to be Barry. In order to register any child for school an official birth certificate must be presented. To receive a government grant proof of citizenship and birth must also be submitted. All of the evidence is stating that Barack Obama's legal first name is Barry not Barrack.
A biography of Obama's Occidental College days states that when Obama was 18-19 he attended school as BARRY SOETORO. And it wasn't until he met a girl by the name of Regina that Obama started using the name Barack.  Regina was the first to start calling him Barack.  There seems to be no record of Obama legally changing his first name from Barry to Barack.
While being sworn in as an attorney in the State of Illinois, Mr Obama had to provide his personal information under oath. He was asked, if he had any other names, he responded none. In reality, he used the name Barry Soetoro in an entry in the journal of the California assembly in reference to grants given to foreign exchange students. Mr. Soetoro/Obama clearly defrauded the State Bar of Illinois and perjured himself while concealing his identity. Anybody else would've been disbarred for this and the matter would've been forwarded to the district attorney for prosecution for perjury and fraud, however nothing was done to Mr. Obama. More importantly, why did he conceal his identity?
If Obama didn't legally have his name changed from Barry to Barack then the birth certificate he passed to Congress is a fake, a forgery.  If his name was registered as Barry Soetoro even though Obama claims his real name is Barack Obama then Obama defrauded the state of California in order to receive college funding.  Obama knowingly presented a false document to the state wherein he claimed to be a foreign student in order to illegally acquire financial aid.
U.S. Code
TITLE 18 > PART I > CHAPTER 47—FRAUD AND FALSE STATEMENTS
(f) Whoever knowingly makes any false statement or claim that he is a citizen of the United States in order to register to vote or to vote in any Federal, State, or local election (including an initiative, recall, or referendum)—
This evidence is sufficient to annul the presidency of Obama.   Official Occidental College transcripts registered with the state declares that Obama is an impostor.
Oops! Text Editor Rushes Out Apology for Kenya 'Mistake' in Obama's Bio
May 17, 2012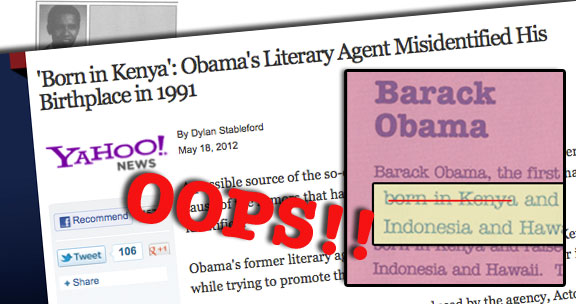 An apology for the "mistake" in Barack Obama's official biography has conveniently been rushed out onto the world scene in rapid-response to the bombshell published today at Breitbart.com and made truly viral at the Drudge Report.
Miriam Goderich came forward as the editor of the text of the bio, and apologized for what she claims was "nothing more than a fact checking error" committed back in 1991 (which was, however, apparently not corrected until 2007). Goderich quickly exonerated the sitting president as well, adding, "There was never any information given to us by Obama in any of his correspondence or other communications suggesting in any way that he was born in Kenya and not Hawaii."
Breitbart.com reported their attempt to contact Goderich for comment over several days, but received no response. Yet, she was quick to come forward once the news broke. The White House has not yet issued an official response, as of the time of writing.
The bio, and background information on it developed by Breitbart.com, demonstrates that Obama was promoted by a literary agent for years as a Kenyan-born mover/shaker worthy of a PR front while the president of Harvard's Law Review. Thus, accordingly, the constitutional scholar and his team must have finally realized the printed "mistake" circa 2007 once his presidential ship was already sailing, and fixed it before somebody got the wrong idea about his eligibility.
Yahoo! News, who spoke with Goderich, released news of the apology. In doing so, writer Dylan Stableford makes his own ridiculous attempt to further spin the elephant in the room on the basis of the "mistake" explanation with prose that would make Orwell shutter. He opens his article with the declaration that a "possible source" of rumors about Obama's birth in a foreign country "has been identified," all while refusing to acknowledge the serious implications that should be met with equally serious investigation.
Instead, this bio, published over a 16 year period according to Archive.org records, is only the latest piece of information to pin Kenya as Obama's birthplace and/or to cast serious doubt on claims of his U.S.-proclaimed birth. Other "sources" of the "rumor" have included statements from Barack Obama's own family members– including his wife, Michelle, Barack himself via "jokes" and, of course, reports concerning his Kenyan grandmother, who claims to have witnessed his birth. That, and missing records in Kenya, et al., allegedly-forged documents, irreconcilable accounts of his life, and so much more.
'Born in Kenya': Obama's Literary Agent Misidentified His Birthplace in 1991

Dylan Stableford
Yahoo News
May 18, 2012

Obama's former literary agency misidentified his birthplace as Kenya while trying to promote the then-Harvard Law grad as an author in 1991.

[…]

"This was nothing more than a fact checking error by me–an agency assistant at the time," Goderich wrote in an emailed statement to Yahoo News. "There was never any information given to us by Obama in any of his correspondence or other communications suggesting in any way that he was born in Kenya and not Hawaii. I hope you can communicate to your readers that this was a simple mistake and nothing more." >>>READ FULL ARTICLE
Obama "Born In Kenya"
Obama Said He Was Born in Kenya Up Until 2007!
http://www.kfyi.com/player/embed.html?autoStart=false&useAds=false&useFullScreen=true&omu=http://media.ccomrcdn.com/media/station_content/622/Ken_Bennett_1337301400_6890.mp3&art=MikeBroomhead&tra=AZSecretaryOfStateKenBennett&osu=null
 
May 19, 2012
Talking Points Memo this morning pointed to this interview yesterday between Arizona conservative radio host and Secretary of State Ken Bennett. In the interview, Bennett said it would be "possible" that he keeps President Obama off the Arizona ballot in November unless he receives "confirmation" from the state of Hawaii that Barack Obama was born there.
We've reached out to Bennett, but haven't heard back yet.
Bennett insisted in the radio interview that he's not a "birther," the term that has become synonymous with the conspiracy theorists purporting that Obama was not born in the United States.
"I believe that the president was born in Hawaii. Or at least I hope he was," Bennett said.
He just wants proof. So, about eight weeks ago, he said, he contacted authorities in Hawaii for confirmation. He said he only wants an email.
What sparked this? Why, none other than Sheriff Joe Arpaio, the birther sheriff leading a crusade against Obama's birth certificate and claiming the one on the White House website is a forgery. And he's currently being sued by the Department of Justice.
read more:
Speech That Got Judge Napolitano Fired From Fox News! Asking questions as Judge Andrew Napolitano did in a recent broadcast on his now cancelled daily show may very well be the reason behind his recent dismissal from Fox. Though specific details are hard to come by because the Judge has yet to give any interviews Read more [+]
You won't hear much about it this coming debate season, when Republican and Democratic presidential contenders take the stage in an attempt to one-up each other on "the issues." You won't read about it in the mainstream media, which has its own agenda and is usually far too occupied with meaningless political minutiae inside the Read more [+]
In Case You Missed It….Proof That You Are Living A Lie! In Case You Missed It….Proof That You Are Living A Lie! UPDATES DAILY posted on June 26, 2014 WHO IS ISIS REALLY? PROOF YOU'RE NOT GOING TO BELIEVE June 27, 2014 tatoott1009 OK "AMERICA BECOMES NOUTH AMERICA ," "AND THE WORLD BECOME SLAVES"!!!! DON Read more [+]
Its A Wonderful Lie 100 Years of the Federal… Infowars has once again released its report on the film It's a Wonderful Life in defiance of YouTube censorship. The upload was taken down multiple times last year over alleged copyright infringements despite the full film being available on YouTube at the time. =========================================== UPDATE Read more [+]
Its pretty obvious that a great many posters here have slugged down the "ism". Some one says we should read history OK lets step back in time… If Freedom is so bad why did the Boat People flee the communist take over of Viet Nam? Many did not make it. We will never know how Read more [+]
When the UNITED STATES declared bankruptcy, pledged all Americans as collateral against the national debt, and confiscated all gold, eliminating the means by which you could pay, it also assumed legal responsibility for providing a new way for you to pay, and it did that by providing what is known as the Exemption, an exemption Read more [+]
There have been repeated warnings issued from many of our past presidents and high influential leaders starting with George Washington all the way to John F. Kennedy. These warning are not something to take lightly and quite frankly are terrifying to the core! I urge you to watch the video below to discover the 'common Read more [+]
POST THIS PAGE JUST FOR YOU ABOLISH THE ACT OF 1871 ©2010 drkate Bridge to Independence (S. Cupp) It's another crossing for this writer: Congress, the President, and all the agencies of the federal government work for the corporation known as THE UNITED STATES, whose jurisdiction encompasses solely the ten square mile area known as Read more [+]
By Xinhua writer Liu Chang BEIJING, Oct. 13 (Xinhua) — As U.S. politicians of both political parties are still shuffling back and forth between the White House and the Capitol Hill without striking a viable deal to bring normality to the body politic they brag about, it is perhaps a good time for the befuddled Read more [+]
U.S. Constitution Online Quick Links: FAQ Topics Forums Documents Timeline Kids Vermont Constitution Map Citation USConstitution.net ——————————————————— The Constitution is presented in several ways on this site. This page presents the Constitution on one large HTML-enhanced page. Other pages present the Constitution as a series of individual pages, in plain text, in standard Palm Read more [+]
On Constitution Day, a reminder that the supreme law of the land requires citizens' participation in order to remain strong According to federal law, September 17th is Constitution Day – a day that all federally financed educational and governmental institutions must teach about the Constitution. When is the last time "We the People" read the Read more [+]
YOU ARE ALL SLAVES Taking Back Your Power By Allen Aslan Heart From the author's website: Gosh, and you call me paranoid… The citizenry here is totally asleep, and when the crap comes will find out that they are owned; yes OWNED by the United STATES, an English corporation. You have given away your titles,; Read more [+]

Copy this below and share it with EVERYONE you know! ACT OF 1871 "We the People of the United States, in Order to form a more perfect Union, establish Justice, insure domestic Tranquility, provide for the common defense, promote the general Welfare, and secure the Blessings of Liberty to ourselves and our Posterity, do ordain
Initial review of the District of Columbia Organic Act of 1871 seems like it only sets up a local government (like Chicago or Seattle); how do you get that they formed a private corporation? If you take the Act out of its historical context and, from the present looking to the past, imagine who the Read more [+]
A Fourth of July fireworks display at the Washington Monument. Location: WASHINGTON, DISTRICT OF COLUMBIA (DC) UNITED STATES OF AMERICA (USA) (Photo credit: Wikipedia) English: This is a high-resolution image of the United States Declaration of Independence (article (Photo credit: Wikipedia) This article by Lisa Guliani was published on this Serendipity website sometime prior to Read more [+]
this below and share it with EVERYONE you know! District of Columbia INC. October 23, 2015 Copy this below and share it with EVERYONE you know! View this document on Scribd ACT OF 1871 "We the People of the United States, in Order to Read more [+]
Two students are suing the University of Hawaii for violating their First Amendment rights after administrator prevented them from distributing copies of the U.S. Constitution — demonstrating a frightening lack of knowledge about the very legal document they were attempting to censor. Students Merritt Burch and Anthony Vizzone, members of the Young Americans for Liberty Read more [+]
When Howe begins to quote Tennessee state law, the officer tells Howe to put his hands behind his back and proceeds to handcuff him. After walking Howe outside, Aytes then threatens to arrest Howe's fiance Amanda Long who is filming the incident. Video footage of the outside of the school clearly illustrates Howe's Read more [+]
over a study at the sign treaties and charters between Britain and the United States exposes the shocking truth the United States has always been and still is a British crown colony King James the first was famous not for just changing the Bible into the King James Version but for Read more [+]
Facts Handgun possession is banned under District of Columbia (D) law. The law prohibits the registration of handguns and makes it a crime to carry an unregistered firearm. Furthermore all lawfully owned firearms must be kept unloaded and dissembled or bound by a trigger lock unless they are being used for lawful recreational activities or Read more [+]
U.S. Constitution Online Quick Links: FAQ Topics Forums Documents Timeline Kids Vermont Constitution Map Citation USConstitution.net ——————————————————— The Constitution is presented in several ways on this site. This page presents the Constitution on one large HTML-enhanced page. Other pages present the Constitution as a series of individual pages, in plain text, in standard Palm Read more [+]