Note from Senior Management:
Andrew Breitbart was never a "Birther," and Breitbart News is a site that has never advocated the narrative of "Birtherism." In fact, Andrew believed, as we do, that President Barack Obama was born in Honolulu, Hawaii, on August 4, 1961.
Yet Andrew also believed that the complicit mainstream media had refused to examine President Obama's ideological past, or the carefully crafted persona he and his advisers had constructed for him.
It is for that reason that we launched "The Vetting," an ongoing series in which we explore the ideological background of President Obama (and other presidential candidates)–not to re-litigate 2008, but because ideas and actions have consequences.
It is also in that spirit that we discovered, and now present, the booklet described below–one that includes a marketing pitch for a forthcoming book by a then-young, otherwise unknown former president of the Harvard Law Review. 
It is evidence–not of the President's foreign origin, but that Barack Obama's public persona has perhaps been presented differently at different times.
***Breitbart News has obtained a promotional booklet produced in 1991 by Barack Obama's then-literary agency, Acton & Dystel, which touts Obama as "born in Kenya and raised in Indonesia and Hawaii."
The booklet, which was distributed to "business colleagues" in the publishing industry, includes a brief biography of Obama among the biographies of eighty-nine other authors represented by Acton & Dystel.
It also promotes Obama's anticipated first book, Journeys in Black and White–which Obama abandoned, later publishing Dreams from My Father instead.
Obama's biography in the booklet is as follows (image and text below):
Barack Obama, the first African-American president of the Harvard Law Review, was born in Kenya and raised in Indonesia and Hawaii.  The son of an American anthropologist and a Kenyan finance minister, he attended Columbia University and worked as a financial journalist and editor for Business International Corporation.   He served as project coordinator in Harlem for the New York Public Interest Research Group, and was Executive Director of the Developing Communities Project in Chicago's South Side. His commitment to social and racial issues will be evident in his first book, Journeys in Black and White.
The booklet, which is thirty-six pages long, is printed in blue ink (and, on the cover, silver/grey ink), using offset lithography. It purports to celebrate the fifteenth anniversary of Acton & Dystel, which was founded in 1976.
@@@@@@@@@@@@@@@@@@@@@@@@@@@@@

Front cover (outside) – note Barack Obama listed in alphabetical order
Front cover (inside)
Jay Acton no longer represents Obama. However, Jane Dystel still lists Obama as a client on her agency's website.
According to the booklet itself, the text was edited by Miriam Goderich, who has since become Dystel's partner at Dystel & Goderich, an agency founded in 1994. Breitbart News attempted to reach Goderich by telephone several times over several days. Her calls are screened by an automated service that requires callers to state their name and company, which we did. She never answered.
The design of the booklet was undertaken by Richard Bellsey, who has since closed his business. Bellsey, reached by telephone, could not recall the exact details of the booklet, but told Breitbart News that it "sounds like one of our jobs, like I did for [Acton & Dystel] twenty years ago or more."
The parade of authors alongside Obama in the booklet includes politicians, such as former Speaker of the House Tip O'Neill; sports legends, such as Joe Montana and Kareem Abdul-Jabbar; and numerous Hollywood celebrities.
The reverse side of the page that features Barack Obama includes former Green Party presidential candidate Ralph Nader and early-1990s "boy band" pop sensation New Kids On the Block.
Acton, who spoke to Breitbart News by telephone, confirmed precise details of the booklet and said that it cost the agency tens of thousands of dollars to produce.
He indicated that while "almost nobody" wrote his or her own biography, the non-athletes in the booklet, whom "the agents deal[t] with on a daily basis," were "probably" approached to approve the text as presented.
Dystel did not respond to numerous requests for comment, via email and telephone. Her assistant told Breitbart News that Dystel "does not answer questions about Obama."
The errant Obama biography in the Acton & Dystel booklet does not contradict the authenticity of Obama's birth certificate. Moreover, several contemporaneous accounts of Obama's background describe Obama as having been born in Hawaii.
The biography does, however, fit a pattern in which Obama–or the people representing and supporting him–manipulate his public persona.
David Maraniss's forthcoming biography of Obama has reportedly confirmed, for example, that a girlfriend Obama described in Dreams from My Father was, in fact, an amalgam of several separate individuals.
In addition, Obama and his handlers have a history of redefining his identity when expedient. In March 2008, for example, he famously declared: "I can no more disown [Jeremiah Wright] than I can disown the black community. I can no more disown him than I can my white grandmother."
Several weeks later, Obama left Wright's church–and, according to Edward Klein's new biography, The Amateur: Barack Obama in the White House, allegedly attempted to persuade Wright not to "do any more public speaking until after the November [2008] election" (51).
Obama has been known frequently to fictionalize aspects of his own life. During his 2008 campaign, for instance, Obama claimed that his dying mother had fought with insurance companies over coverage for her cancer treatments.
That turned out to be untrue, but Obama has repeated the story–which even the Washington Post called "misleading"–in a campaign video for the 2012 election.
The Acton & Dystel biography could also reflect how Obama was seen by his associates, or transitions in his own identity. He is said, for instance, to have cultivated an "international" identity until well into his adulthood, according to Maraniss.
Regardless of the reason for Obama's odd biography, the Acton & Dystel booklet raises new questions as part of ongoing efforts to understand Barack Obama–who, despite four years in office remains a mystery to many Americans, thanks to the mainstream media.
Larry O'Connor contributed to this report.
@@@@@@@@@@@@@@@@@@@@@@@
Birthers beware: Hawaii may start ignoring your repeated requests for proof that President Barack Obama was born here.
As the state continues to receive e-mails seeking Obama's birth certificate, the state House Judiciary Committee heard a bill Tuesday permitting government officials to ignore people who won't give up.
"Sometimes we may be dealing with a cohort of people who believe lack of evidence is evidence of a conspiracy," said Lorrin Kim, chief of the Hawaii Department of Health's Office of Planning, Policy and Program Development.
So-called "birthers" claim Obama is ineligible to be president because, they argue, he was actually born outside the United States, and therefore doesn't meet a constitutional requirement for being president.
@@@@@@@@@@@@@@
Occidental College transcripts provides concrete evidence to annul Obama presidency.
Posted by PC Corruption, Latest news, World newsSaturday, June 18th, 2011
Registration transcript states ~ Name: Barry Soetoro – Religion: Islam – Nationality: Indonesian
The smoking gun evidence that annuls Obama's presidency is Obama's college transcripts regarding his application for and receiving of foreign student aid.  Obama's college transcripts from Occidental College indicates that Obama, under the name Barry Soetoro, received financial aid as a foreign student from Indonesia as an undergraduate at the school. The transcript from Occidental College shows that Obama (Barry Soetoro) applied for financial aid and was awarded a fellowship (scholarship) for foreign students from the Fulbright Foundation Scholarship program – an international educational exchange program sponsored by the U.S. government.  Grants are available for U.S. citizens to go abroad and for non-U.S. citizens with no U.S. permanent residence to come to the U.S.  To qualify, for the non-US citizen scholarship to study in the U.S., a student applicant must claim and provide proof of foreign citizenship. This document would seem to provide the smoking gun that many of Obama's detractors have been seeking.  The United States Constitution requires that Presidents (and Vice Presidents) of the United States be natural born citizens of the United States.
"No Person except a natural born Citizen, or a Citizen of the United States, at the time of the Adoption of this Constitution, shall be eligible to the Office of President; neither shall any Person be eligible to that Office who shall not have attained to the Age of thirty five Years, and been fourteen Years a Resident within the United States."
Obama hasn't met and doesn't meet the basic qualifications for the presidency – must be natural born citizen.
Obama has been named in dozens of civil lawsuits alleging he is not eligible to be president, with many filing a criminal complaint alleging the commander-in-chief is a fraud.
The filed indictments disputes Obama's eligibility to be president under the U.S. Constitution which requires that eligible candidates for the United States presidency be "natural born" citizens.
U.S. soldiers including a general refuse to recognize Obama as their Commander in Chief since he is not a U.S. citizen. The soldiers have challenged Obama's legitimacy by filing federal lawsuits against Obama.
On such soldier was U.S. Army Maj. Stefan Frederick Cook who was given orders to deploy to Afghanistan. Cook refused to deploy stating that he shouldn't have to go because Obama is not a U.S. citizen and therefore not legally President and Commander in Chief.  The military revoked the orders with no reason given.  Speculation is that Obama would rather not see this thing go to court before a judge!
"In the 20-page document — filed with the U.S. District Court for the Middle District of Georgia — the California-based Taitz asks the court to consider granting his client's request based upon Cook's belief that Obama is not a natural-born citizen of the United States and is therefore ineligible to serve as commander-in-chief of the U.S. Armed Forces," the Ledger-Enquirer reported.
Cook "would be acting in violation of international law by engaging in military actions outside the United States under this President's command. … simultaneously subjecting himself to possible prosecution as a war criminal by the faithful execution of these duties," Taitz stated.
Obama says he was born in Hawaii in 1961, just two years after it became a state.
There are many lawsuits and claims that Barack Obama was never eligible to be president because he wasn't born in the United States. And there is credible evidence that suggests he is not legally eligible to serve as President of the United States.
Newspaper print of LA Times – Occidental recalls 'Barry' Obama
Numerous official government documents records Obama being legally registered as Barry Soetoro. School registries shows the registration of Barack Obama under the name Barry Soetoro. During his Occidental College days he is registered as Barry Soetoro. An entry in the journal of the California assembly in reference to grants given to foreign exchange students (this official government document lists Obama as a foreigner not a US citizen. A US citizen wouldn't qualify for foreign exchange student funding) states Obama as Barry Soetoro from Indonesia.
The first name of a child is always the same from birth. If throughout his childhood Obama went by the first name of Barry then legally his birth name would have to be Barry. In order to register any child for school an official birth certificate must be presented. To receive a government grant proof of citizenship and birth must also be submitted. All of the evidence is stating that Barack Obama's legal first name is Barry not Barrack.
A biography of Obama's Occidental College days states that when Obama was 18-19 he attended school as BARRY SOETORO. And it wasn't until he met a girl by the name of Regina that Obama started using the name Barack.  Regina was the first to start calling him Barack.  There seems to be no record of Obama legally changing his first name from Barry to Barack.
While being sworn in as an attorney in the State of Illinois, Mr Obama had to provide his personal information under oath. He was asked, if he had any other names, he responded none. In reality, he used the name Barry Soetoro in an entry in the journal of the California assembly in reference to grants given to foreign exchange students. Mr. Soetoro/Obama clearly defrauded the State Bar of Illinois and perjured himself while concealing his identity. Anybody else would've been disbarred for this and the matter would've been forwarded to the district attorney for prosecution for perjury and fraud, however nothing was done to Mr. Obama. More importantly, why did he conceal his identity?
If Obama didn't legally have his name changed from Barry to Barack then the birth certificate he passed to Congress is a fake, a forgery.  If his name was registered as Barry Soetoro even though Obama claims his real name is Barack Obama then Obama defrauded the state of California in order to receive college funding.  Obama knowingly presented a false document to the state wherein he claimed to be a foreign student in order to illegally acquire financial aid.
U.S. Code
TITLE 18 > PART I > CHAPTER 47—FRAUD AND FALSE STATEMENTS
§ 1015. Naturalization, citizenship or alien registry
(a) Whoever knowingly makes any false statement under oath, in any case, proceeding, or matter relating to, or under, or by virtue of any law of the United States relating to naturalization, citizenship, or registry of aliens; or
(b) Whoever knowingly, with intent to avoid any duty or liability imposed or required by law, denies that he has been naturalized or admitted to be a citizen, after having been so naturalized or admitted; or
(c) Whoever uses or attempts to use any certificate of arrival, declaration of intention, certificate of naturalization, certificate of citizenship or other documentary evidence of naturalization or of citizenship, or any duplicate or copy thereof, knowing the same to have been procured by fraud or false evidence or without required appearance or hearing of the applicant in court or otherwise unlawfully obtained; or
(d) Whoever knowingly makes any false certificate, acknowledgment or statement concerning the appearance before him or the taking of an oath or affirmation or the signature, attestation or execution by any person with respect to any application, declaration, petition, affidavit, deposition, certificate of naturalization, certificate of citizenship or other paper or writing required or authorized by the laws relating to immigration, naturalization, citizenship, or registry of aliens; or
(e) Whoever knowingly makes any false statement or claim that he is, or at any time has been, a citizen or national of the United States, with the intent to obtain on behalf of himself, or any other person, any Federal or State benefit or service, or to engage unlawfully in employment in the United States; or
(f) Whoever knowingly makes any false statement or claim that he is a citizen of the United States in order to register to vote or to vote in any Federal, State, or local election (including an initiative, recall, or referendum)—
This evidence is sufficient to annul the presidency of Obama.   Official Occidental College transcripts registered with the state declares that Obama is an impostor.
0000000000000000000000000000000
Aaron Dykes
Infowars.com
May 17, 2012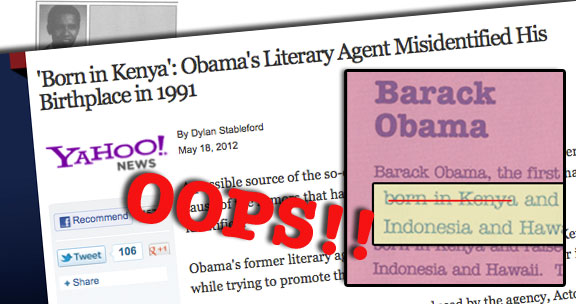 An apology for the "mistake" in Barack Obama's official biography has conveniently been rushed out onto the world scene in rapid-response to the bombshell published today at Breitbart.com and made truly viral at the Drudge Report.
Miriam Goderich came forward as the editor of the text of the bio, and apologized for what she claims was "nothing more than a fact checking error" committed back in 1991 (which was, however, apparently not corrected until 2007). Goderich quickly exonerated the sitting president as well, adding, "There was never any information given to us by Obama in any of his correspondence or other communications suggesting in any way that he was born in Kenya and not Hawaii."
Breitbart.com reported their attempt to contact Goderich for comment over several days, but received no response. Yet, she was quick to come forward once the news broke. The White House has not yet issued an official response, as of the time of writing.
The bio, and background information on it developed by Breitbart.com, demonstrates that Obama was promoted by a literary agent for years as a Kenyan-born mover/shaker worthy of a PR front while the president of Harvard's Law Review. Thus, accordingly, the constitutional scholar and his team must have finally realized the printed "mistake" circa 2007 once his presidential ship was already sailing, and fixed it before somebody got the wrong idea about his eligibility.
Yahoo! News, who spoke with Goderich, released news of the apology. In doing so, writer Dylan Stableford makes his own ridiculous attempt to further spin the elephant in the room on the basis of the "mistake" explanation with prose that would make Orwell shutter. He opens his article with the declaration that a "possible source" of rumors about Obama's birth in a foreign country "has been identified," all while refusing to acknowledge the serious implications that should be met with equally serious investigation.
Instead, this bio, published over a 16 year period according to Archive.org records, is only the latest piece of information to pin Kenya as Obama's birthplace and/or to cast serious doubt on claims of his U.S.-proclaimed birth. Other "sources" of the "rumor" have included statements from Barack Obama's own family members– including his wife, Michelle, Barack himself via "jokes" and, of course, reports concerning his Kenyan grandmother, who claims to have witnessed his birth. That, and missing records in Kenya, et al., allegedly-forged documents, irreconcilable accounts of his life, and so much more.
'Born in Kenya': Obama's Literary Agent Misidentified His Birthplace in 1991

Dylan Stableford
Yahoo News
May 18, 2012

Obama's former literary agency misidentified his birthplace as Kenya while trying to promote the then-Harvard Law grad as an author in 1991.

[…]

"This was nothing more than a fact checking error by me–an agency assistant at the time," Goderich wrote in an emailed statement to Yahoo News. "There was never any information given to us by Obama in any of his correspondence or other communications suggesting in any way that he was born in Kenya and not Hawaii. I hope you can communicate to your readers that this was a simple mistake and nothing more." >>>READ FULL ARTICLE
Obama "Born In Kenya"
Obama Said He Was Born in Kenya Up Until 2007!
Similar/Related Articles