"Breathtaking" information will top previous press conference, says lead investigator
Paul Joseph Watson
Infowars.com
Monday, July 2, 2012
Sheriff Joe Arpaio and his Cold Case Posse are set to unleash "shocking" revelations about Barack Obama's birth certificate at a press conference later this month, information described as "breathtaking" by lead investigator Mike Zullo.
Speaking with Tea Party Power Hour host Mark Gillar, Zullo said that the upcoming press conference would go above and beyond the March 1st event during which Arpaio and his team announced they would investigate the probability that Obama's long form birth certificate, released by the White House in April 2011, was a forgery.
"I can't disclose to you what we've discovered, but it's going to be a shocking revelation at our press conference," said Zullo.
Arpaio and his posse are set to present evidence gathered during their recent trip to Hawaii, including the fact that stamps bearing Registrar Alvin Onaka's name, used to verify Obama's birth in Honolulu, are "floating around" inside the Hawaii Department of Health.
The upcoming press conference is set to be held on July 17 at 2:30 p.m. local time at the Maricopa County Sheriff's Office in Phoenix, Ariz., with World Net Daily again providing live streaming video coverage.
"From what you're telling me," Gillar said, "it sounds like the next press conference is going to be even more amazing than the last press conference back on March 1st."
##3#############


"It will be," Zullo responded. "The information … is going to be breathtaking when it's released."
As we have exhaustively documented, Obama's long form birth certificate contains so many errors it looks it was cobbled together by a teenager using rudimentary software.
Sheriff Arpaio has been targeted by the Obama administration over his stance surrounding the Arizona illegal immigration issue, a process many suspect is also tied to Arpaio's efforts to vet Obama's birth certificate.
During a recent appearance on Fox News, Arpaio promised to maintain his position despite a recent Supreme Court's decision to strike down parts of the law which requires suspected illegal immigrants to prove they are in the country legally.
Back in May, the Justice Department announced it was suing Arpaio over alleged civil rights violations on behalf of the Maricopa County sheriff's office.
*********************
Paul Joseph Watson is the editor and writer for Prison Planet.com. He is the author of Order Out Of Chaos. Watson is also a regular fill-in host for The Alex Jones Show and Infowars Nightly News.
Similar/Related Articles
#############
Dreams from My Real Father
A Story of Reds and Deception
At age 18, Barack Obama admittedly arrived at Occidental College a committed revolutionary Marxist. What was the source of Obama's foundation in Marxism? Throughout his 2008 Presidential campaign and term in office, questions have been raised regarding Barack Obama's family background, economic philosophy, and fundamental political ideology. Dreams from My Real Father is the alternative Barack Obama "autobiography," offering a divergent theory of what may have shaped our 44th President's life and politics.
#####
In Dreams from My Real Father, Barack Obama is portrayed by a voiceover actor who chronicles Barack Obama's life journey in socialism, from birth through his election to the Presidency. The film begins by presenting the case that Barack Obama's real father was Frank Marshall Davis, a Communist Party USA propagandist who likely shaped Obama's world view during his formative years. Barack Obama sold himself to America as the multi-cultural ideal, a man who stood above politics. Was the goat herding Kenyan father only a fairy tale to obscure a Marxist agenda, irreconcilable with American values?
This fascinating narrative is based in part on 2 years of research, interviews, newly unearthed footage and photos, and the writings of Davis and Obama himself. Dreams from My Real Father weaves together the proven facts with reasoned logic and speculation in an attempt to fill-in the obvious gaps in Obama's history. Is this the story Barack Obama should have told, revealing his true agenda for "fundamentally transforming America?" Director Joel Gilbert concludes, "The 'Birthers' have been on a fool's errand. To understand Obama's plans for America, the question is not 'Where's the Birth Certificate?,' the question is 'Who is the real father?'"
Frank Marshall Davis (1905-1987) was a Communist Party USA (CPUSA) propagandist in Chicago and Hawaii, as well as a writer and poet. The FBI had Davis under investigation or surveillance for 19 years, compiling a 600-page FBI file. He was on the FBI's 'Security Index A', meaning he would be arrested in the event of national emergency…
Frank Marshall Davis
Frank Marshall Davis Bio
Frank Marshall Davis (1905-1987) was a Communist Party USA (CPUSA) propagandist in Chicago and Hawaii, as well as a writer and poet. The FBI had Davis under investigation or surveillance for 19 years, compiling a 600-page FBI file. He was on the FBI's 'Security Index A', meaning he would be arrested in the event of national emergency.
In 1930′s Chicago, CPUSA recruited journalists to help spread Soviet influence in American public opinion. Frank Marshall Davis was one of them. A graduate of Kansas State Journalism School, Frank Marshall Davis joined the Communist Party and began writing for The Chicago Star. He was a colleague of journalist Vernon Jarrett, father-in-law of Obama confidant Valerie Jarrett. Davis also taught at Chicago's Abraham Lincoln School, a Communist run training school run by CPUSA. Davis authored three major volumes of poetry, and later an autobiographical sex novel under a pseudonym.
In 1948, the Kremlin ordered CPUSA to facilitate a US withdrawal from the Hawaii as US naval forces were considered an obstacle to Soviet expansion in Asia. CPUSA assigned Frank Marshall Davis to Honolulu where he began writing for the Communist Newspaper, the Honolulu Record in 1948. In his columns, Davis flawlessly mirrored official Soviet propaganda – he blamed American capitalism for starting World War II, denounced the Marshall Plan, preached wealth redistribution, nationalization of industry and government healthcare, while bashing Wall Street. Davis also helped organize the Communist controlled ILWU (union) in a failed effort to take over the Hawaiian government in 1949. The Hawaii NAACP chapter complained to its national office, "Comrade Frank Marshall Davis suddenly appeared on the scene to propagandize the membership with the purpose of converting it into a front for the Stalinist line." In 1956, Davis was subpoenaed by the Senate Subcommittee on Un-American Activities and pleaded the fifth. Dreams from My Real Father makes the case that on August 4, 1961, Frank Marshall Davis became the father of the future 44th President of the United States and indoctrinated him with a Marxist ideology during his formative years.
OBAMA'S LIES? THE TRUTH AND NOTHING BUT THE TRUTH SO HELP ME GOD
@@@@@@@@@@@@@@@@@@@@@@@
Birthers beware: Hawaii may start ignoring your repeated requests for proof that President Barack Obama was born here.
As the state continues to receive e-mails seeking Obama's birth certificate, the state House Judiciary Committee heard a bill Tuesday permitting government officials to ignore people who won't give up.
"Sometimes we may be dealing with a cohort of people who believe lack of evidence is evidence of a conspiracy," said Lorrin Kim, chief of the Hawaii Department of Health's Office of Planning, Policy and Program Development.
So-called "birthers" claim Obama is ineligible to be president because, they argue, he was actually born outside the United States, and therefore doesn't meet a constitutional requirement for being president.
@@@@@@@@@@@@@@
Occidental College transcripts provides concrete evidence to annul Obama presidency.
Posted by PC Corruption, Latest news, World newsSaturday, June 18th, 2011
Registration transcript states ~ Name: Barry Soetoro – Religion: Islam – Nationality: Indonesian
The smoking gun evidence that annuls Obama's presidency is Obama's college transcripts regarding his application for and receiving of foreign student aid. Obama's college transcripts from Occidental College indicates that Obama, under the name Barry Soetoro, received financial aid as a foreign student from Indonesia as an undergraduate at the school. The transcript from Occidental College shows that Obama (Barry Soetoro) applied for financial aid and was awarded a fellowship (scholarship) for foreign students from the Fulbright Foundation Scholarship program – an international educational exchange program sponsored by the U.S. government. Grants are available for U.S. citizens to go abroad and for non-U.S. citizens with no U.S. permanent residence to come to the U.S. To qualify, for the non-US citizen scholarship to study in the U.S., a student applicant must claim and provide proof of foreign citizenship. This document would seem to provide the smoking gun that many of Obama's detractors have been seeking. The United States Constitution requires that Presidents (and Vice Presidents) of the United States be natural born citizens of the United States.
"No Person except a natural born Citizen, or a Citizen of the United States, at the time of the Adoption of this Constitution, shall be eligible to the Office of President; neither shall any Person be eligible to that Office who shall not have attained to the Age of thirty five Years, and been fourteen Years a Resident within the United States."
Obama hasn't met and doesn't meet the basic qualifications for the presidency – must be natural born citizen.
Obama has been named in dozens of civil lawsuits alleging he is not eligible to be president, with many filing a criminal complaint alleging the commander-in-chief is a fraud.
The filed indictments disputes Obama's eligibility to be president under the U.S. Constitution which requires that eligible candidates for the United States presidency be "natural born" citizens.
U.S. soldiers including a general refuse to recognize Obama as their Commander in Chief since he is not a U.S. citizen. The soldiers have challenged Obama's legitimacy by filing federal lawsuits against Obama.
On such soldier was U.S. Army Maj. Stefan Frederick Cook who was given orders to deploy to Afghanistan. Cook refused to deploy stating that he shouldn't have to go because Obama is not a U.S. citizen and therefore not legally President and Commander in Chief. The military revoked the orders with no reason given. Speculation is that Obama would rather not see this thing go to court before a judge!
"In the 20-page document — filed with the U.S. District Court for the Middle District of Georgia — the California-based Taitz asks the court to consider granting his client's request based upon Cook's belief that Obama is not a natural-born citizen of the United States and is therefore ineligible to serve as commander-in-chief of the U.S. Armed Forces," the Ledger-Enquirer reported.
Cook "would be acting in violation of international law by engaging in military actions outside the United States under this President's command. … simultaneously subjecting himself to possible prosecution as a war criminal by the faithful execution of these duties," Taitz stated.
Obama says he was born in Hawaii in 1961, just two years after it became a state.
There are many lawsuits and claims that Barack Obama was never eligible to be president because he wasn't born in the United States. And there is credible evidence that suggests he is not legally eligible to serve as President of the United States.
Newspaper print of LA Times – Occidental recalls 'Barry' Obama
Numerous official government documents records Obama being legally registered as Barry Soetoro. School registries shows the registration of Barack Obama under the name Barry Soetoro. During his Occidental College days he is registered as Barry Soetoro. An entry in the journal of the California assembly in reference to grants given to foreign exchange students (this official government document lists Obama as a foreigner not a US citizen. A US citizen wouldn't qualify for foreign exchange student funding) states Obama as Barry Soetoro from Indonesia.
The first name of a child is always the same from birth. If throughout his childhood Obama went by the first name of Barry then legally his birth name would have to be Barry. In order to register any child for school an official birth certificate must be presented. To receive a government grant proof of citizenship and birth must also be submitted. All of the evidence is stating that Barack Obama's legal first name is Barry not Barrack.
A biography of Obama's Occidental College days states that when Obama was 18-19 he attended school as BARRY SOETORO. And it wasn't until he met a girl by the name of Regina that Obama started using the name Barack. Regina was the first to start calling him Barack. There seems to be no record of Obama legally changing his first name from Barry to Barack.
While being sworn in as an attorney in the State of Illinois, Mr Obama had to provide his personal information under oath. He was asked, if he had any other names, he responded none. In reality, he used the name Barry Soetoro in an entry in the journal of the California assembly in reference to grants given to foreign exchange students. Mr. Soetoro/Obama clearly defrauded the State Bar of Illinois and perjured himself while concealing his identity. Anybody else would've been disbarred for this and the matter would've been forwarded to the district attorney for prosecution for perjury and fraud, however nothing was done to Mr. Obama. More importantly, why did he conceal his identity?
If Obama didn't legally have his name changed from Barry to Barack then the birth certificate he passed to Congress is a fake, a forgery. If his name was registered as Barry Soetoro even though Obama claims his real name is Barack Obama then Obama defrauded the state of California in order to receive college funding. Obama knowingly presented a false document to the state wherein he claimed to be a foreign student in order to illegally acquire financial aid.
U.S. Code
TITLE 18 > PART I > CHAPTER 47—FRAUD AND FALSE STATEMENTS
§ 1015. Naturalization, citizenship or alien registry
(a) Whoever knowingly makes any false statement under oath, in any case, proceeding, or matter relating to, or under, or by virtue of any law of the United States relating to naturalization, citizenship, or registry of aliens; or
(b) Whoever knowingly, with intent to avoid any duty or liability imposed or required by law, denies that he has been naturalized or admitted to be a citizen, after having been so naturalized or admitted; or
(c) Whoever uses or attempts to use any certificate of arrival, declaration of intention, certificate of naturalization, certificate of citizenship or other documentary evidence of naturalization or of citizenship, or any duplicate or copy thereof, knowing the same to have been procured by fraud or false evidence or without required appearance or hearing of the applicant in court or otherwise unlawfully obtained; or
(d) Whoever knowingly makes any false certificate, acknowledgment or statement concerning the appearance before him or the taking of an oath or affirmation or the signature, attestation or execution by any person with respect to any application, declaration, petition, affidavit, deposition, certificate of naturalization, certificate of citizenship or other paper or writing required or authorized by the laws relating to immigration, naturalization, citizenship, or registry of aliens; or
(e) Whoever knowingly makes any false statement or claim that he is, or at any time has been, a citizen or national of the United States, with the intent to obtain on behalf of himself, or any other person, any Federal or State benefit or service, or to engage unlawfully in employment in the United States; or
(f) Whoever knowingly makes any false statement or claim that he is a citizen of the United States in order to register to vote or to vote in any Federal, State, or local election (including an initiative, recall, or referendum)—
This evidence is sufficient to annul the presidency of Obama. Official Occidental College transcripts registered with the state declares that Obama is an impostor.
0000000000000000000000000000000
Aaron Dykes
Infowars.com
May 17, 2012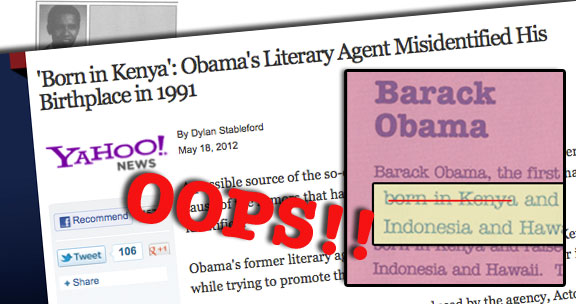 An apology for the "mistake" in Barack Obama's official biography has conveniently been rushed out onto the world scene in rapid-response to the bombshell published today at Breitbart.com and made truly viral at the Drudge Report.
Miriam Goderich came forward as the editor of the text of the bio, and apologized for what she claims was "nothing more than a fact checking error" committed back in 1991 (which was, however, apparently not corrected until 2007). Goderich quickly exonerated the sitting president as well, adding, "There was never any information given to us by Obama in any of his correspondence or other communications suggesting in any way that he was born in Kenya and not Hawaii."
Breitbart.com reported their attempt to contact Goderich for comment over several days, but received no response. Yet, she was quick to come forward once the news broke. The White House has not yet issued an official response, as of the time of writing.
The bio, and background information on it developed by Breitbart.com, demonstrates that Obama was promoted by a literary agent for years as a Kenyan-born mover/shaker worthy of a PR front while the president of Harvard's Law Review. Thus, accordingly, the constitutional scholar and his team must have finally realized the printed "mistake" circa 2007 once his presidential ship was already sailing, and fixed it before somebody got the wrong idea about his eligibility.
Yahoo! News, who spoke with Goderich, released news of the apology. In doing so, writer Dylan Stableford makes his own ridiculous attempt to further spin the elephant in the room on the basis of the "mistake" explanation with prose that would make Orwell shutter. He opens his article with the declaration that a "possible source" of rumors about Obama's birth in a foreign country "has been identified," all while refusing to acknowledge the serious implications that should be met with equally serious investigation.
Instead, this bio, published over a 16 year period according to Archive.org records, is only the latest piece of information to pin Kenya as Obama's birthplace and/or to cast serious doubt on claims of his U.S.-proclaimed birth. Other "sources" of the "rumor" have included statements from Barack Obama's own family members– including his wife, Michelle, Barack himself via "jokes" and, of course, reports concerning his Kenyan grandmother, who claims to have witnessed his birth. That, and missing records in Kenya, et al., allegedly-forged documents, irreconcilable accounts of his life, and so much more.
'Born in Kenya': Obama's Literary Agent Misidentified His Birthplace in 1991

Dylan Stableford
Yahoo News
May 18, 2012

Obama's former literary agency misidentified his birthplace as Kenya while trying to promote the then-Harvard Law grad as an author in 1991.

[...]

"This was nothing more than a fact checking error by me–an agency assistant at the time," Goderich wrote in an emailed statement to Yahoo News. "There was never any information given to us by Obama in any of his correspondence or other communications suggesting in any way that he was born in Kenya and not Hawaii. I hope you can communicate to your readers that this was a simple mistake and nothing more." >>>READ FULL ARTICLE
Obama "Born In Kenya"
Obama Said He Was Born in Kenya Up Until 2007!
Similar/Related Articles
############################
http://www.kfyi.com/player/embed.html?autoStart=false&useAds=false&useFullScreen=true&omu=http://media.ccomrcdn.com/media/station_content/622/Ken_Bennett_1337301400_6890.mp3&art=MikeBroomhead&tra=AZSecretaryOfStateKenBennett&osu=null
Brett LoGiurato
Business Insider
May 19, 2012
Talking Points Memo this morning pointed to this interview yesterday between Arizona conservative radio host and Secretary of State Ken Bennett. In the interview, Bennett said it would be "possible" that he keeps President Obama off the Arizona ballot in November unless he receives "confirmation" from the state of Hawaii that Barack Obama was born there.
We've reached out to Bennett, but haven't heard back yet.
Bennett insisted in the radio interview that he's not a "birther," the term that has become synonymous with the conspiracy theorists purporting that Obama was not born in the United States.
"I believe that the president was born in Hawaii. Or at least I hope he was," Bennett said.
He just wants proof. So, about eight weeks ago, he said, he contacted authorities in Hawaii for confirmation. He said he only wants an email.
What sparked this? Why, none other than Sheriff Joe Arpaio, the birther sheriff leading a crusade against Obama's birth certificate and claiming the one on the White House website is a forgery. And he's currently being sued by the Department of Justice.
Similar/Related Articles